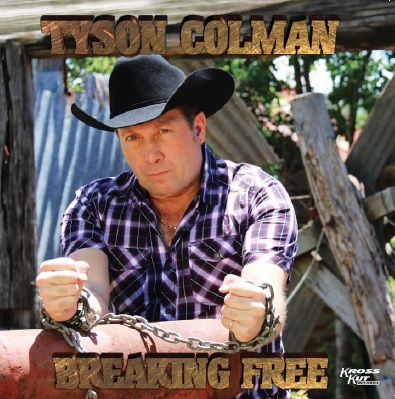 A few years ago, my sister from another mister and talented muso, Susan Lily recommended that I listen to this bloke called Tyson Colman.
I reviewed his album and we have been FB friends ever since. Tyson has mixed this album up quite a bit.
There are cajun influences, a bit of rockabilly,
some sweet love songs and some trad country as well as a bit of an Elvis take.
I like an album that offers surprises and this one certainly does. It's a bit like that Gump line about the box of chocolates……
It's a fast album, I'm on my fourth play and it just goes pretty quickly.
A couple of tracks have already had radio play but there are more potential singles to come.
I love You Don't Know Me (and that's not the Elvis take….even though he sings a song by the same name).
King of the Saddle is different again, with some of the lyrics so spot on that you feel like you are at a rodeo, right down to the stitching of the jeans.
True Love Exists is probably my favourite, ……surprise, surprise (I'm a sucker for a ballad).
The song with Michelle Walker is a beaut, adding a bit of fun and a need to tell the male character to pick up his rubbish and his clothes!
It's the kind of song that Beccy and Adam would probably sing.
Rockabilly Friday Night makes you want to get up and dance, my coffee table nearly got a workout…..
then I realised that I couldn't afford a new one if I broke it. There are a lot of cool songs on here,
She's Top Shelf will be a shower song candidate, for sure.
Bring back my heart is the Elvis style song….he hasn't left the building yet.
Tyson's influences are pretty strong. The musicianship of this album is pretty polished and slick.
It's mainly good old country and it has been a labour of love.
You can hear Tyson enjoying himself as he sings and plays each song. That joy will be contagious.
It's a fun album with a few sweet songs to add to the mix.
Very playable.
The Tracks
I wanna kiss you
Bring back my heart
I want to see you smile
You don't know me
Breaking Free
The path you walk
Rockabilly Friday Night
She's top shelf
King of the saddle
True love exists
Couldn't Live Without You – with Michelle Walker